---
TRIVIUM / IN FLAMES
January 14, 2012
Baltimore, MD
---
TRIVIUM Set List:
Waves, Martyr, Black, Forsake, Departure, Built, Flies, Caustic, Down, Throes, Outro
---
IN FLAMES Set List:
Sounds of a Playground Fading, Deliver Us, All For Me, Trigger, Alias, Swim, The Hive, Quiet Place, Dead Ship, Fear Is The Weakness, Come Clarity, Ropes, Delight And Angers, Cloud Connected - Long, Mirrors Truth, Take This Life
---
To explain very quickly WHY there's a pic of me at the top of this review is simple...during In Flames set Anders grabbed my camera & took a pic of ME for whatever reason, so I thought it was a cool souvenir for me to have & to share with this review because he snapped that pic during the 2nd song in the bands set, so technically it was part of the show!
In Baltimore it's a crap shoot as to whether a rock show will be packed or 1/2 empty and with this particular show I had my doubts BUT the show was basically sold out and the venue was packed! The crowd wasn't a full on metal crowd which surprised me...you had a large amount o' kiddies & under 21's mixed with obvious metal heads.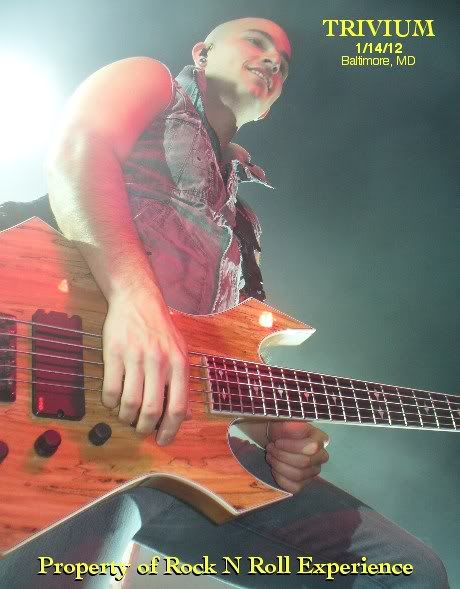 The usual crowd for a harder metal show is best described as a sausage fest where the attire is all black t-shirts...that just wasn't the case though on this night where you did have the stereo typical metal fan here & there...there was actually a good number o' females in attendance & it's interesting to note that when Trivium's set was done a decent amount of the crowd also vacated the building!
I missed the first band on the bill & caught Veil of Maya's set which was best described as noisy with a horrible audio mix...I think the only thing I could decipher in their set was the obvious samples they used underneath their live playing.
Trivium were direct support for the entire tour & they came out with all guns blazing & definitely brought their a-game when they played their set!
Matt Heafy is an interesting dude because his presence onstage is alot more menacing than he is offstage...offstage he comes off mellow & nice but onstage he's ready to crush someone's head in & it's hard to tell if the band cares too much about their image or not because musically they are a mix of old school metal ala Iron Maiden, Judas Priest & Metallica and they mix in elements of nu-metal & add a modern take on the timeless sounds of metal from the past...looks wise though the only guy who kinda comes off like he belongs in a metal band is Corey who's the last guy in the band to still have long hair & look the part of a "rocker" although I'm still confused by the underarmour he wore onstage....he had spandex sleeves on his arms which kinda made him look like he was going scuba diving after the show OR he was just leaving a Steel Panther concert while Paolo looked like he came from an 80's metal show.
I'm just joshing the guys as far as my take on their onstage attire because the music is really ALL that matters & they sounded amazing, they gave the crowd a killer show, the stage was set up very simple with 2 onstage mini backdrops that added the feel of the new record cover onstage & the chemistry that Heafy & Corey have with their dueling leads sounded amazing as always while the pit was non-stop action as the band kept their entire set heavy till the very end!
Trivium could have clearly been the nights headliner BUT up next was In Flames & this was where I would leave early because after the first couple o' In Flames songs I was heading up the street to check out a set from Charm City Devils at Soundstage.
In Flames took the stage with a really cool light show that created spirals & streams o' light that came from every direction & the band sounded great whether you were up front or way in the back....Anders is a very low key front man who's vocals are a mix of clean & dirty, he's someone who keeps his emotions in check onstage & you can see he's having fun while performing but he keeps his emotions to himself whereas Björn & the rest of the band are smiling randomly throughout the set...it's interesting to note that guitarist Björn actually started out as the bands drummer for a few years before switching over as guitarist for the band.
During the 2nd song of In Flames set Anders leaned over to grab my camera & he took MY picture, I wasn't quite sure what that gesture was about but it made for a cool souvenire of this show for me.
When song #3 was complete I made my way to the exit & walked through the 30 degree weather that awaited me outside & arrived partially frozen at Soundstage to catch Charm City Devils set.
---
CHARM CITY DEVILS
January 14, 2012
Baltimore, MD
---
Soundstage is an interesting club because it's a dance club on certain nights that will host everything from Raves to Latino Dance night & this club has such a varied mix o' patrons...if those walls could talk it would probably have seedier stories than a Mexican hooker who does a donkey show!
CCD's set list was actually 50% new material from the bands forthcoming "SINS" cd.
"Spite" kicked off the show & the bands sound is less bluesy at this point with a harder edge, the riffs are tuned down & chunky, the vocals are still clean with REAL singing & the drums are faster & harder which make each song pump with a livid pace that's different than the bands debut release.
John Allen & the boys always deliver a kick ass set & the mix was right in the pocket, everything was clear, loud & precise and during the song "Money" female fans were tossing wadded up dollar bills at John & the boys which reminded me of being at a strip club.
The nights encore was "Burn" & a cover of the Black Keys "I Got Mine". It's commendable to point out how the band have slowly transitioned their new material & new sound into their live show...they didn't overdose the fans with all new material, what they have done over the past few months is they've mixed in a new song here & there and at this point they are including around 6 new songs to the set so they did a good job of mixing the new stuff in slowly & it's a great way to promote their new record as well.
On a sidenote I had a blast hanging with Jade at Charm City Devils & Amy at In Flames....if I seemed "off" to anyone I hung with this night it was simply because I started to get a bad migraine midway through the night BUT my motto is always "on with the show" so I did my best to just ignore it & get my job done.