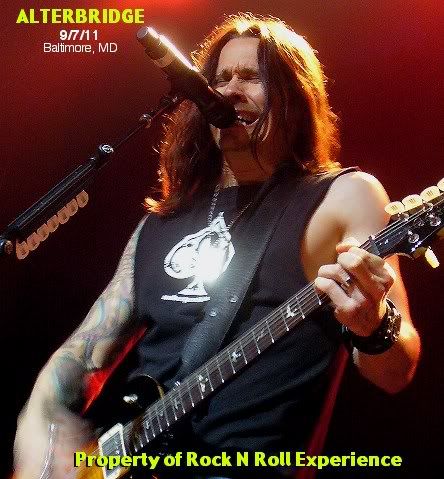 CARNIVAL OF MADNESS 2011
Featuring: Alterbridge / Theory of a Deadman / Black Stone Cherry
9/7/11
Baltimore, Maryland
THEORY OF A DEADMAN Set List:  Gentleman, Got It Made, All Or Nothing, So Happy, Bitch Came Back, Not Meant To Be, Lowlife, Outta My Head, Santa Monica, Cocaine, Hate My Life, Truth Is, Bad Girlfriend
BLACK STONE CHERRY Set List: Change, Star, Blind, Trash, Someday, Boom, Train
ALTERBRIDGE Set List: Slip Into The Void, Find The Real, White Knuckles, Ghost of Days, Ties That Bind, Black Bird, Come To Life, Isolation, Rise Today
The Carnival of Madness tour was created by Shinedown & oddly enough, for this installment of the tour Shinedown were not a part of the tour...it's a concept that I remember Perry Farrell & Jane's Addiction doing many years ago back with the Lollapallooza tour & it's actually a brilliant concept when you think about it...starting a "branded" tour, then eventually letting it go on it's own all Summer without the creator even being there, yet still raking in $$ for the use of the name of the franchise.
I apologize in advance for missing the first 2 bands on this bill but the weather on night was not good & it was raining so hard that I had trouble seeing the road in front of me while driving so this review starts with the 3rd band on the bill, Black Stone Cherry.
Black Stone Cherry sounded good but had limited stage space since the gear for Alterbridge & Theory of a Deadman was already in place onstage & hidden under sheets.
I was pleasantly surprised by just how many pretty girls there were at this crowd...I know, random sidenote, but very important!
The sound Black Stone Cherry create onstage is a mix of southern fried rock with elements of harder rock tossed in & my only complaint about their set overall was that they didn't have a really clear mix as far as sound goes & that's just common opening band stuff...there were certain parts where I had trouble hearing guitar solo's & I made it a point to walk around the venue to see if it was just from where I was standing but overall the sound was the same throughout the venue...they had a muddy mix.
Alterbridge were up next & for the record I will state that Alterbridge had the largest crowd, they had a bit o' moshing on the floor, there was crowd surfing throughout their set & it was a total mistake not making Alterbridge the headliners on this tour!
Mark is a solid metal axe slinger BUT I truly believe Miles Kennedy is much better than him & I was really surprised to see how many leads Miles played throughout the Alterbridge set...I had no idea the leads in alot of their songs were Miles playing because in the press the guitar work is always credited to Mark BUT onstage Miles shines as a very talented performer!
When you hear Miles voice it's almost impossible to not think of the movie "Rockstar" if you've seen it before & it's because Miles is the singer on some of the better songs from that movie & his voice does have a slight hair band quality to it BUT I'll give him props & say that he can sing in different styles that range from hard rock, metal & even blues...his voice is just as impressive as his guitar playing!
Towards the end of the set Miles & Mark did a guitar duel where they both challenged each other with different guitar solos...Miles was clearly the winner in my eyes because his playing was more from the heart whereas Marks came off clinical at times & more by the book....I think part of that comes from Miles being heavily influenced by the blues whereas Mark strikes me as more of a "metal" player.
Mark's amp set up was interesting...he had a mismatched set of cabs & 2 small Fender Twin's atop them...the amps behind him reminded me of a pawn shop set up & if you were too close to his side of the stage his sound blew you away! Holy Crap, Mark's monitors were probably the loudest of any band this night & trust me, if you didn't wear ear plugs close to where he was, he was so loud that it was numbing to the ears!
When Alterbridge finished their set a good percentage of the crowd actually left!
This show was originally slated to take place at Pier Six which is a larger outdoor venue but due to low ticket sales they decided to move the show to Ram's Head Live & the show was actually jam packed by the time I arrived...I think most people waited till the night of the show to buy their tickets!
Theory of a Deadman were the nights headliners & they sounded clear as a bell, played all their hits for the most part & they actually panned over their first record all together & opted to play stuff off their last 2 records.
Tyler Connolly is the bands lead singer/guitarist & I think we all wondered how in the hell he got his hair in that stiff cartoonish position & just why it never moved all night....after playing a full headlining set & sweating one might assume his hair would falter just a bit BUT his hair stayed in place like a glued down hat...I think even Morrissey is jealous of his hair! lol
Theory of a Deadman were good but following Alterbridge was a mistake because T.O.A.D. just do not have the same energy that Alterbridge had & midway through the T.O.A.D. set I found myself yawning & tired and thinking I wish I were home and in bed because I was getting sleepy watching their set.
I assumed I was the only one thinking that thought regarding how tired I got during their set & to my surprise I heard the same thing from all my buddies after the show ended...T.O.A.D. were good but just came off boring & it didn't help that their set ended just before midnight on a worknight!
The interesting parts of T.O.A.D.'s set were as follows:
They played a partial cover of "Nutshell" by Alice in Chains & towards the end of their set they also did a partial cover of "Paradise City" by Guns N Roses. "Cocaine" by Eric Clapton was played in it's entirety & "Bad Girlfriend" received the best crowd reaction.
I spotted all of the guys from Charm City Devils in attendance at the show & overall this was a fun night of rock n roll but it was clear that Alterbridge owned the show!
Leaving the venue the weather was the same as when I arrived...a torrential downpour & this made me realize it was actually a good thing that they moved the show from an outdoor venue to an indoor venue!